Vantage-RIC: Rapid Impulse Compaction
HOW IT WORKS
"Vantage-RIC", Rapid Impulse Compaction system is an innovative method for ground improvement down to medium depths. With this system, a wide variety of grounds can be quickly and economically compacted. In combination with a replacement base layer or stone columns even the bearing capacities of cohesive soil can be improved significantly.
Impulse compaction refers to the methodology of dropping a weight (of 9 metric tons in our Vantage-RIC configuration) onto a steel plate (compactor foot) at a frequency of 40-60 blows/minute from a defined height. The plate remains in
constant contact with the ground, thus ensuring an efficient energy transfer. The cavity is filled with suitable  replacement material and can optionally be compacted again in order to increase the effect, if necessary.
By using an array of sensors and measurement systems, we can provide a full documentation for all compaction points within a project, such as: GPS coordinates, date, time, applied energy, number of impulses, settlement per impulse, etc. Based on this data, the effect of the compaction can be holistically analyzed for full quality control and assurance.
The achieved compaction can be most effectively verified using dynamic probing or CPT tested before and after
compaction. The compaction depth effect depends on the type of soil and its layer composition and it is possible to reach compaction depth up to 9m.
Preparation is everything.
Based on the geotechnical analysis which is carried out prior to the compaction work, our geotechnical engineers design a compaction pattern. What gives Vantage-RIC an advantage over other compaction methods is the "on the fly" adaptation of the compaction pattern while carrying out the work.
Based on the sensor readings, we are able to optimize the grid and therefore safe time and resources. The precise control of the compaction effect allows for a perfectly uniform settlement. The graphic below shows the actual pattern of a construction site and the arching effect between the points of compaction.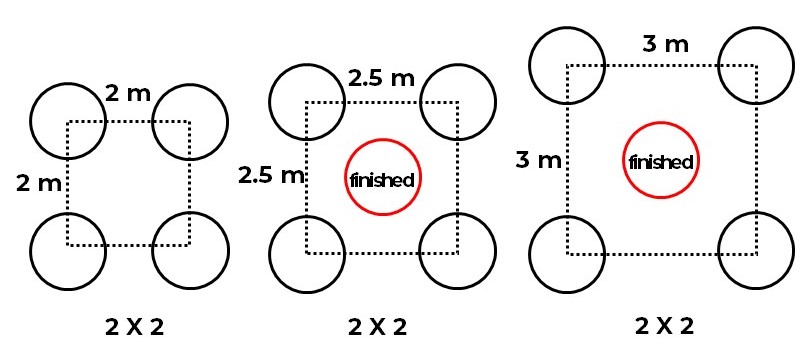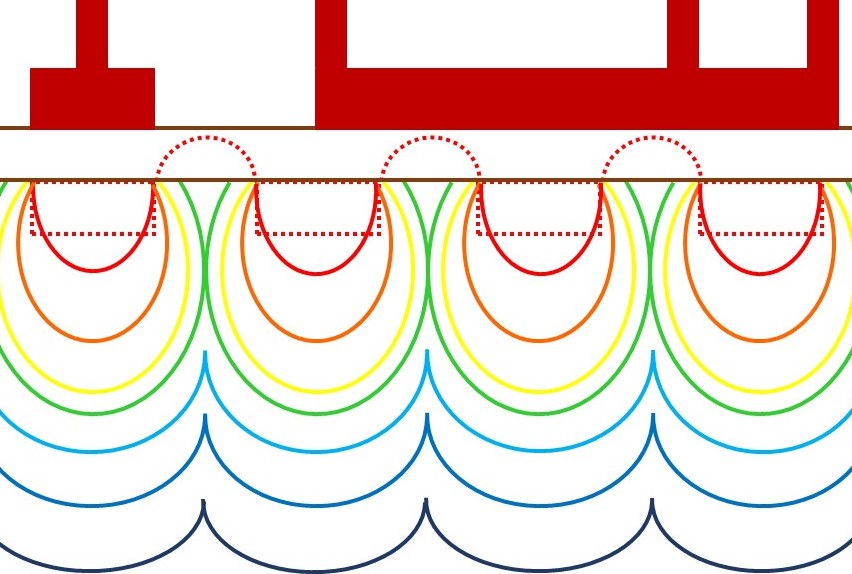 This diagram shows a pattern of a construction site and the arching effect between the points of compaction.